Shuflix is a new & creative
solution to a common problem
The Problem:
The Paradox of Choice
Whether you know this or not — around you at any given time there are hundreds, if not thousands, of activities to choose from.
hiking cooking lessons rock concerts sailing ballooning basketball movies apple picking dining ballet opera indie theatre classical music paragliding bungee jumping trampolining womens tennis tecnology meetup media conference social writing group trailing tubing sports surfing skiing skydiving music appreciation business poker otaku manga jazz club volleyball book club fashion cosplay anime running capoeira drink & draw jazz fest
Yet to choose what to do and where to do it is a daunting task with
predictable results because you are limited to:
Recommendations
what your family & friends recommend
Ratings & Reviews
what strangers rate and review
Past Experiences
you search for what you already know
You are left with leisure choices that lack diversity, originality and spontaneity.
Looking for things to do has never been this simple!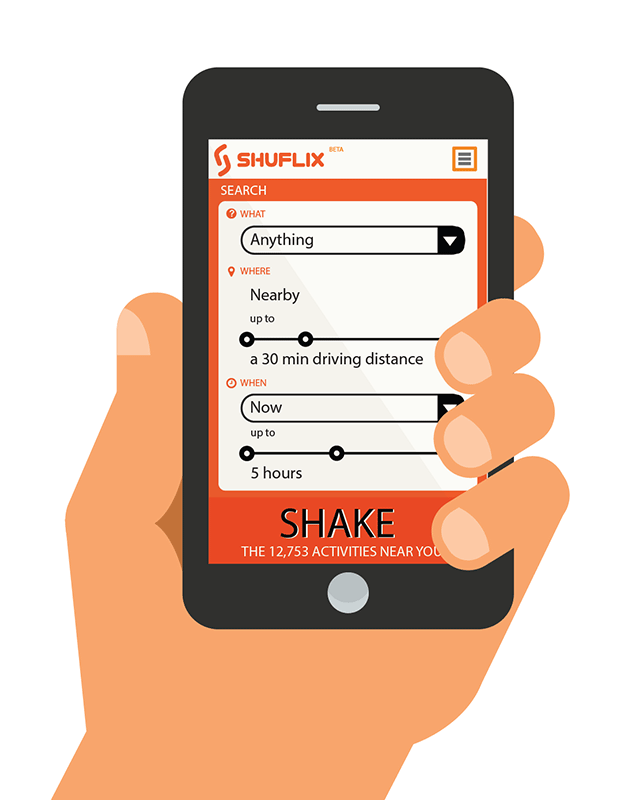 Select an
activity type,
radius and
time
These default to anything, close by and now so this step is optional if you want to keep things simple.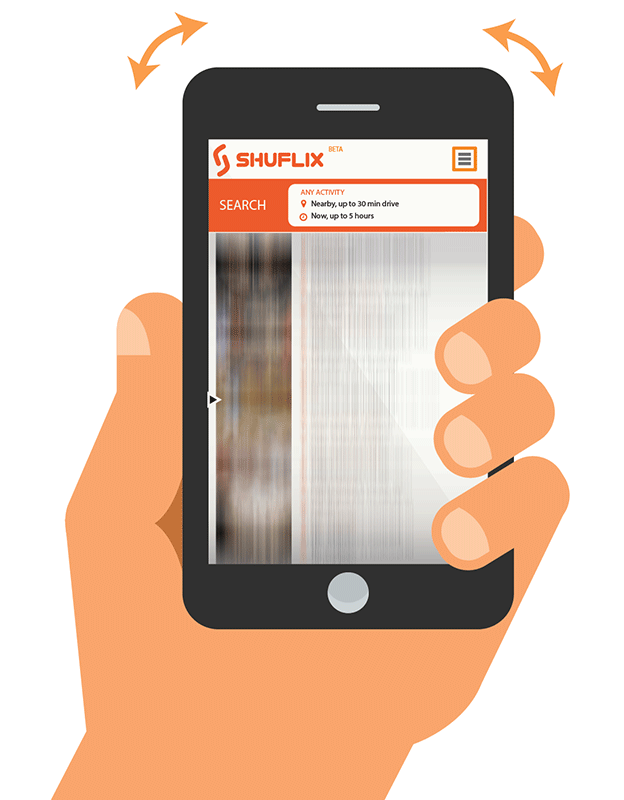 Just shake the phone
How simple is that? It will randomly select from millions of activities with one shake!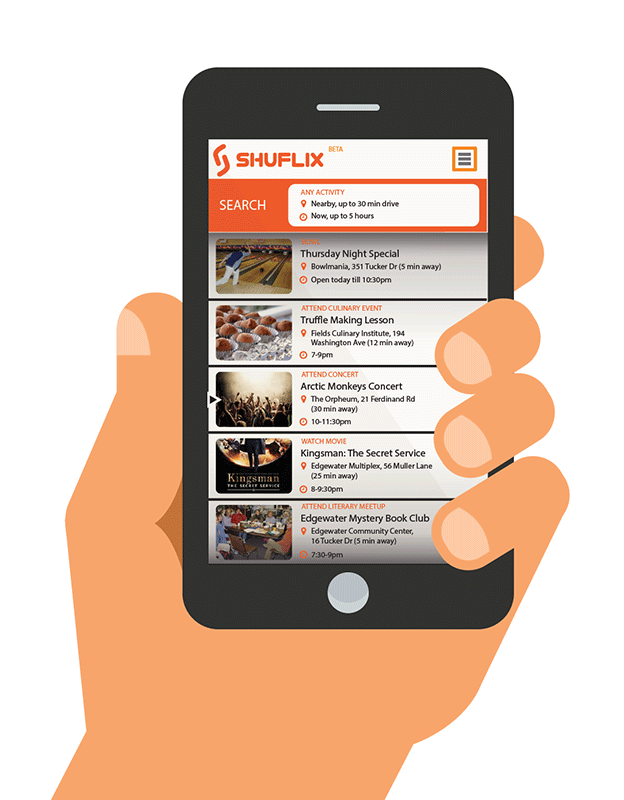 Voilà!
Your results are in. You can choose the one in the middle or one of the many adjacent ones. This allows you to minimize the burden of choice and find entirely new things to do near you. Why not go off the beaten path and be bold and adventurous?
Come on... Go for it!
Let a shake decide!
When & for what can it be used?
as Bayo, our mascot three-toed sloth
(a creature native to our country Costa Rica),
demonstrates there are many uses: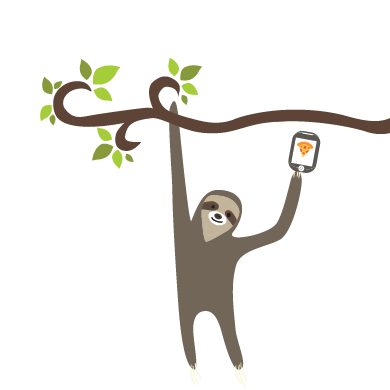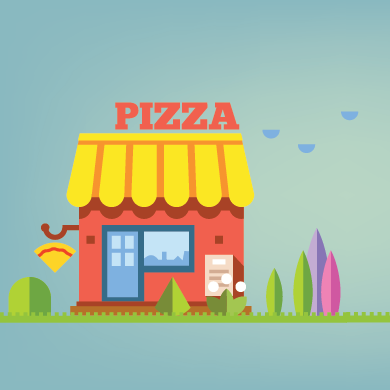 Grab a bite or a drink
Shuflix has millions of restaurants from the fancy to the fast as well as coffee shops, bakeries, ice cream parlors and much more!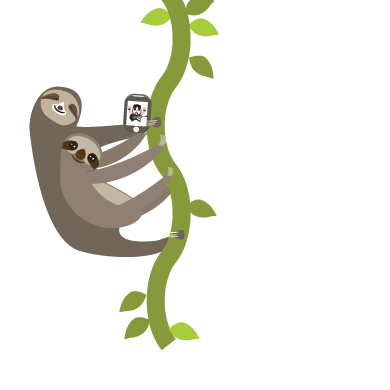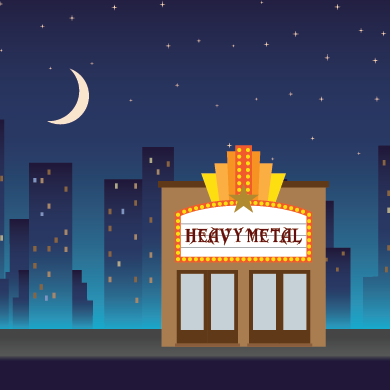 Catch a show
Shuflix has millions of options to help you plan your night out, be that in a salsa club or a sports bar or a theater!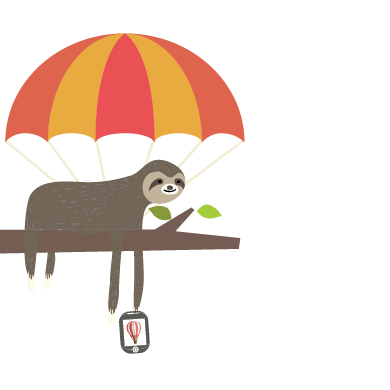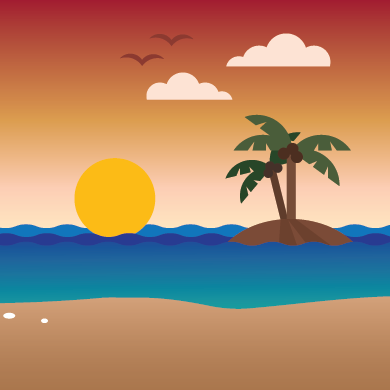 Be out and about
Shuflix has millions of outdoor and recreational activities from canoeing to bowling and everything in between!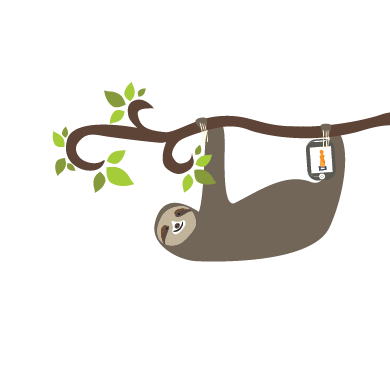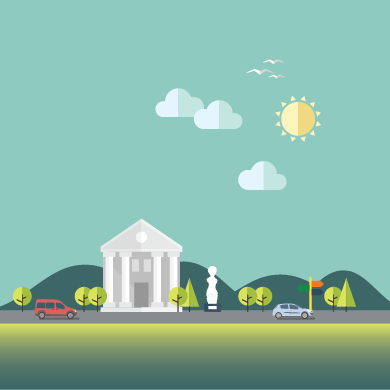 Learn and discover
Shuflix has millions of educational and cultural activities, such as visiting historical monuments, book fairs, museums or even someone's violin recital!
Incidentally, the four categories above represent the four activity types (in addition to choosing any kind of activity).
The idea is users don't select something too specific so that their bias of what exactly they want doesn't limit their choices.
Can I Try It?
YES! It is FREE to the public and has been officially launched for iPhone. However, if you are an Android user, you can stay updated by submitting the form below
We will let you know when the app is released on Android.
We will not sell or share your email address with third parties.
Who are we?
3 passionate brothers from Costa Rica
The idea was born in San José, Costa Rica (not San José, California!) — the other silicon valley :)
It's a city of about a million people, tucked away in a valley surrounded by volcanoes and jungles.
It's a city, like many, bustling and riddled with traffic, and there's lots of stuff going on — yet Serg struggled finding interesting and new stuff to do. Recommendations from friends, the newspaper and online sources seemed to all end in the same boring list.
But every once in a while, call it serendipity, Serg would get lost and find something off the beaten path. Perhaps something with fewer ratings or reviews and no style section spreads in The Sunday Paper and probably not something any of his friends had heard of before either.
This is when he envisioned an app that would draw activities from a number of sources, but — just like those few lucky times he found fun by getting lost — would sort them randomly.
It dawned on him that, especially in cities, in this age of consumer empowerment, there are too many choices and your bias, your friends's biases, and your community's bias leads you to choose the same things over and over again —
but with so many choices
would it really hurt to explore a little?